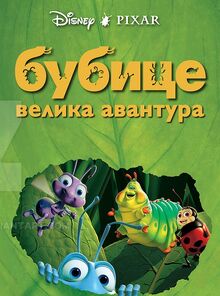 Bubice: Velika avantura / Бубице: Велика авантура
Cast
Additional voices:
Production
Dub director: Đurđica Gajić / Ђурђица Гајић
Dub recorder: Tatjana Gvozdenović / Татјана Гвозденовић
Sound mixer: Igor Jadranin / Игор Јадранин
Dubbing company: Luxor
Recording studio: Loudworks
Mixing studio: Loudworks
Made for: RTS
Anecdotes
It aired only on TV channel RTS 1.
It wasn't released on home video.
Ad blocker interference detected!
Wikia is a free-to-use site that makes money from advertising. We have a modified experience for viewers using ad blockers

Wikia is not accessible if you've made further modifications. Remove the custom ad blocker rule(s) and the page will load as expected.