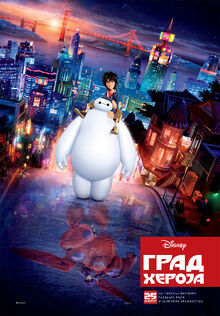 Grad heroja / Град хероја
Premiered: December 21, 2014
Released: December 25, 2014
Cast
Others:
Dragan Vujić Vujke / Драган Вујић Вујке
Nebojša Ljubišić / Небојша Љубишић
Vanja Đukelić / Вања Ђукелић
Production
Dub director: Miloš Paunović / Милош Пауновић
Dubbing company: Livada produkcija
Recording studio: Watchout
Mixing studio: Shepperton international
Made by: Disney characters voices international, inc.
Anecdotes
Premiere was held in "Cineplexx" cinema, shopping center "Delta City", Belgrade.
This dub is lost, as it wasn't released on home video and never aired on TV.
Ad blocker interference detected!
Wikia is a free-to-use site that makes money from advertising. We have a modified experience for viewers using ad blockers

Wikia is not accessible if you've made further modifications. Remove the custom ad blocker rule(s) and the page will load as expected.