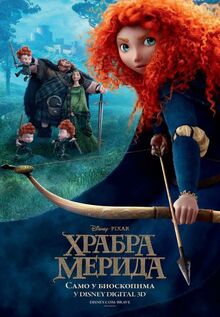 Hrabra Merida / Храбра Мерида
Premiered: September 1, 2012
Released: September 6, 2012
Cast
Additional voices:
Jana Maričić / Јана Маричић
Milan Maričić / Милан Маричић
Dragan Manojlović / Драган Манојловић
Predrag Ljubenović / Предраг Љубеновић
Ljubo Zečević / Љубо Зечевић
Denin Serdarević / Денин Сердаревић
Goran Kuretić / Горан Куретић
Marko Movre / Марко Мовре
Dinko Vujević / Динко Вујевић
Goran Vrbanić / Горан Врбанић
Fabijan Pavao Medvešek / Фабијан Павао Медвешек
Songs
| Serbian name | English name | Voice |
| --- | --- | --- |
| - | Touch the sky | wasn't dubbed |
| - | Into the open air | wasn't dubbed |
Production
Dub director: Jana Maričić / Јана Маричић
Translator: Jana Maričić / Јана Маричић
Creative supervisor: Mariusz Arno Jaworowski
Dubbing company: Livada produkcija
Recording studio: Moby
Mixing studio: Shepperton international
Made by: Disney characters voices international, inc.
Anecdotes
Premiere was held in "Kolosej" cinema, Ušće Shopping Center, Belgrade.
Ljubo Zečević, who did additional voices in Serbian dub, voiced King Fergus in Croatian dub.
It was released on DVD.
Gallery
Ad blocker interference detected!
Wikia is a free-to-use site that makes money from advertising. We have a modified experience for viewers using ad blockers

Wikia is not accessible if you've made further modifications. Remove the custom ad blocker rule(s) and the page will load as expected.