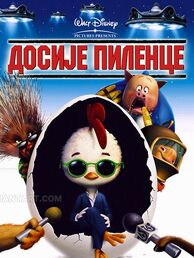 Dosije pilence / Досије пиленце
Cast
Serbian name
English name
Speaking voice
Pilence
Пиленце
Chicken Little
Miloš Đuričić
Милош Ђуричић
Bak Kljuc
Бак Кљуц
Buck Cluck
Branislav Platiša
Бранислав Платиша
Gradonačelnik Lunjavi Ćurić
Градоначелник Луњави Ћурић
Mayor Turkey Lurkey
Bojan Žirović
Бојан Жировић
Gospodin Vunopredić
Господин Вунопредић
Mr. Woolensworth
Vladan Milić
Владан Милић
Lija Opasnica
Лија Опасница
Foxy Loxy
Danica Todorović
Даница Тодоровић
Žgolja
Жгоља
Runt of the Litter
Siniša Ubović
Синиша Убовић
Ebi Patkić
Еби Паткић
Abby Mallard
Andrijana Oliverić
Андријана Оливерић
Direktor
Директор
Principal Fetchit
Vladan Milić
Владан Милић
Pas komentator
Пас коментатор
Dog Announcer
Vladan Milić
Владан Милић
Melvin - tata vanzemaljac
Мелвин - тата ванземаљац
Melvin - Alien Dad
Siniša Ubović
Синиша Убовић
Tina - mama vanzemaljka
Тина - мама ванземаљка
Tina - Alien Mom
Danica Todorović
Даница Тодоровић
Vanzemaljski policajac
Ванземаљски полицајац
Alien Cop
Vladan Milić
Владан Милић
Holivudski Zapovednik Pilence
Холивудски Заповедник Пиленце
Ace - Hollywood Chicken Little
Bojan Žirović
Бојан Жировић
Nastavnik fizičkog
Наставник физичког
Coach
Bojan Žirović
Бојан Жировић
Mama Žgolja
Мама Жгоља
Mama Runt
Danica Todorović
Даница Тодоровић
Holivudski Škrga Bezvodić
Холивудски Шкрга Безводић
Hollywood Fish
Vladan Milić
Владан Милић
Holivudska Ebi
Холивудска Еби
Hollywood Abby
Andrijana Oliverić
Андријана Оливерић
Holivudski Žgolja
Холивудски Жгоља
Hollywood Runt
Siniša Ubović
Синиша Убовић
Songs
Only the song "Wannabe" was dubbed, soloist songs were left in English.
Serbian name
English name
Singing voice
Žgolja
Жгоља
Runt of the Litter
Siniša Ubović
Синиша Убовић
Ebi Patkić
Еби Паткић
Abby Mallard
Andrijana Oliverić
Андријана Оливерић
Production
Dub director: Vladan Zdunić / Владан Здунић
Dub recorder: Željko Markuš / Жељко Маркуш
Sound mixer: Željko Markuš / Жељко Маркуш
Dubbing company: Luxor
Recording studio: Loudworks
Mixing studio: Loudworks
Made for: RTS
Anecdotes
It aired only on TV channel RTS 1.
It wasn't released on home video.