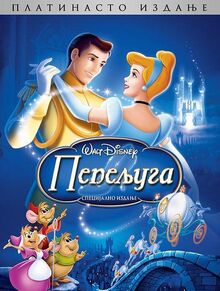 Pepeljuga / Пепељуга
Premiered: September 5, 2012
Cast
Songs
Cast
Choir:
Localizations
English name
Serbian name
Literal translation
Cinderella
Пепељуга
Pepeljuga
Cinderella
A Dream Is a Wish Your Heart Makes
Жеља је глас твог срца
Želja je glas tvog srca
A Wish Is the Voice of Your Heart
Oh, Sing Sweet Nightingale
Пева славуј мој
Peva slavuj moj
My Nightingale Sings
The Work Song
Израда хаљине
Izrada haljine
Making a Dress
Bibbidi-Bobbidi-Boo
Бибиди бобиди бу
Bibidi bobidi bu
Bibbidi Bobbidi Boo
So This Is Love
Мог срца глас
Mog srca glas
The Voice of My Heart
Production
Dub director: Dragan Vujić Vujke / Драган Вујић Вујке
Translator: Predrag Kovačević / Предраг Ковачевић
Music director: Srđan Čolić / Срђан Чолић
Lyrics translator: Predrag Kovačević / Предраг Ковачевић
Sound mixing:

Mile Novković / Миле Новковић
Goran Kuretić / Горан Куретић

Creative supervisor: Eyman Maciej
Dubbing company: Livada produkcija
Recording studio: Moby
Mixing studio: Shepperton international
Made by: Disney characters voices international, inc.
Anecdotes
It premiered on Blu-ray.
It aired on TV channel RTS 1 on January 1, 2013.
Poster gallery
Ad blocker interference detected!
Wikia is a free-to-use site that makes money from advertising. We have a modified experience for viewers using ad blockers

Wikia is not accessible if you've made further modifications. Remove the custom ad blocker rule(s) and the page will load as expected.