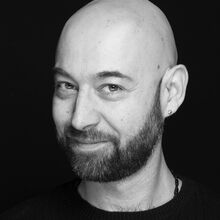 Dejan Lutkić / Дејан Луткић (Vrbas, February 19, 1974) is Serbian movie, theater, TV and voice actor.
Dejan was born on February 19, 1974 in Vrbas, but spent his childhood in Kula. He graduated lower music school, majoring in piano and later graduated acting on Faculty of Dramatic Arts in Belgrade. He is a permanent member of "Boško Buha" theater. He is famous Serbian actor, and has played in many popular movies, TV series and theater plays.
Dubbing studios
Voice roles
Disney
Non-Disney
Links
Ad blocker interference detected!
Wikia is a free-to-use site that makes money from advertising. We have a modified experience for viewers using ad blockers

Wikia is not accessible if you've made further modifications. Remove the custom ad blocker rule(s) and the page will load as expected.