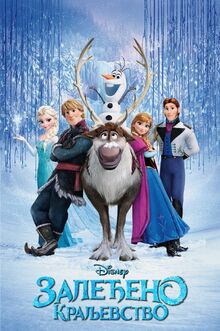 Zaleđeno kraljevstvo / Залеђено краљевство
Premiered: December 21, 2013
Released: December 26, 2013
Cast
Additional voices:
Songs
Cast
Frozen Heart
Fixer Upper
Localizations
English name
Serbian name
Literal translation
Frozen Heart
Моћни лед
Moćni led
Mighty Ice
Do You Want to Build a Snowman?
Да ли би да правиш Снешка?
Da li bi da praviš Sneška?
Would You Like to Build a Snowman?
For the First Time in Forever
(+ reprise)
Први пут у свом животу (+ реприза)
Prvi put u svom životu (+ repriza)
For the First Time in My Life
Love Is an Open Door
Љубав је мени спас
Ljubav je meni spas
Love Is My Salvation
Let It Go
Сад је крај
Sad je kraj
It's Over Now
Reindeer(s) Are Better Than People
Ирвас је бољи од људи
Irvas je bolji od ljudi
Reindeer(s) Are Better Than People
In Summer
У лето
U leto
In Summer
Fixer Upper
Недопечен
Nedopečen
Half-Baked (Incomplete)
Get a Horse! (theatrical short)
Production
Dub director: Jana Maričić / Јана Маричић
Translator: Predrag Kovačević / Предраг Ковачевић
Lyrics translator: Predrag Kovačević / Предраг Ковачевић
Music director: Srđan Čolić / Срђан Чолић
Creative supervisor: Aleksandra Sadowska
Dubbing company: Livada produkcija
Recording studio: Moby
Mixing studio: Shepperton international
Made by: Disney characters voices international, inc.
Anecdotes
The premiere was held in the "Cineplexx" cinema, shopping center "Delta City", Belgrade.
Serbian name of Weasel Town (Vaškograd / Вашкоград) translates as Louse Town.
In this dub Oaken speaks with Bosnian accent.
It wasn't released on home video.
It was re-released in cinemas on November 30, 2017, together with Olaf's Frozen Adventure.
Андреа Рађеновић / Andrea Rađenović performed the pop version of the song "Let it go" on "Disney on ice" 2017.
Gallery