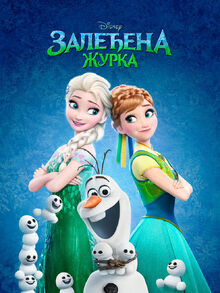 Zaleđena žurka / Залеђена журка
Dubbed: 2015
Released: December 15, 2017
Cast
Songs
Cast
Localizations
English name
Serbian name
Literal translation
Making Today A Perfect Day
Диван је дан
Divan je dan
It's a beautiful day
Production
Dubbing company: Livada produkcija
Recording studio: Watchout
Mixing studio: Shepperton international
Made by: Disney character voices international, inc.
Anecdotes
It is also known as Groznica zaleđenog kraljevstva / Грозница залеђеног краљевства.
The dub was made in 2015, but due to distribution mistake it was shown subtiteled in theaters and the dub premiered on December 15, 2017 on HBO GO.
Frozen Fever could be seen subtiteled in Serbian theaters after live-action Cinderella since March 12, 2015 and dubbed on HBO GO, since December 15, 2017.
In this dub Oaken speaks Bosnian dialect of Serbian, instead of German accent.
It wasn't released on home video.