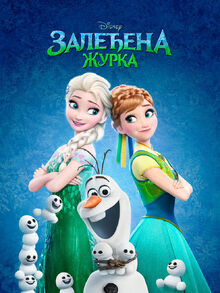 Залеђена журка / Грозница залеђеног краљевства
Produced / Произведено: 2015
Released / Објављено: December / Децембар 15, 2017
Cast / Улоге
Songs / Песме
Cast / Улоге
Localizations / Преводи
English name
Енглеско име
Serbian name
Српско име
Literal translation
Дословни превод
Making Today A Perfect Day
Диван је дан
It's a beautiful day
Production / Продукција
Dubbing company / Синхронизацијска фирма: Livada produkcija / Ливада продукција
Recording studio / Студио за снимање: Watchout / Вочаут
Mixing studio / Студио за микс: Shepperton international
Made by / Производња: Disney character voices international, inc.
Anecdotes / Занимљивости
The dub was made in 2015, but due to distributional mistake it was shown subtitled in theaters and the dub premiered on December 15, 2017 on HBO GO.
Frozen Fever could be seen subtitled in Serbian theaters with live-action Cinderella since March 12, 2015 and dubbed on HBO GO, since December 15, 2017.
In this dub Oaken speaks with Bosnian accent.
It wasn't released on home video.
Синхронизација је направљена 2015, али је због дистрибуцијске грешке у биоскопима приказана титлована верзија, а синхронизација је имала премијеру 15. децембра 2017. на ХБО ГОУ.
Залеђена журка / Грозница залеђеног краљевства се приказивала титлована уз играну Пепељугу од 12. марта 2015. и синхронизована на ХБО ГОУ од 15. децембра 2017.
У овој синхронизацији Окен прича са босанским нагласком.
Српска синхронизација није објављена на форматима кућног видеа.