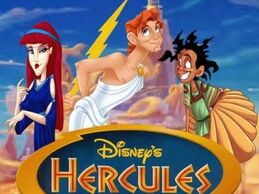 Herkul (TV serija) / Херкул (ТВ серија)
Cast
Hercules and the Arabian Night
"Hercules and the Arabian Night" is an episode of Hercules: The Animated Series that features a crossover with the characters from Aladdin.
Songs
Songs weren't dubbed in this series.
Dub inconsistencies
Production
Translation:

Ana Stanojević / Ана Станојевић
Dragana Perović / Драгана Перовић
Dunja Crnić / Дуња Црнић

Dubbing company: Luxor
Recording studio: Loudworks
Mixing studio: Loudworks
Aired on: RTS
Anecdotes
It wasn't released on home video.
In "Hercules and the Arabian Night" Jasmine is called Јасмина (Jasmina), even though her name in Aladdin and Aladdin (TV series) is Јасмин (Jasmin).
Compared to the Aladdin franchise dub, only Jasmine's voice is the same, while Jafar's singing voice from the original movie - Marko Marković / Марко Марковић spoke for him here, and Aladdin was voiced by a completely different actor - Radovan Vujović / Радован Вујовић.