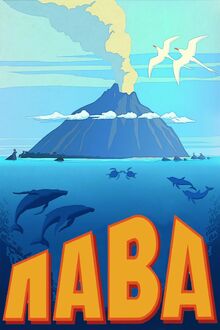 Lava / Лава
Premiered: June 14, 2015
Released: June 18, 2015
(along with Inside Out)
Cast
Production
Dub director: Jana Maričić / Јана Маричић
Dubbing company: Livada produkcija
Recording studio: Watchout
Mixing studio: Shepperton international
Made by: Disney character voices international, inc.
Anecdotes
Inside Out (along with Lava) is the first Disney's movie to have all logos and titles re-animated in Serbian, and the only one where titles are in Latin script, instead of Cyrillic, even though logos themselves are in Cyrillic.
The premiere was held in the "Cineplexx" cinema, shopping center "Delta City", Belgrade.
(along with Inside Out)
It wasn't released on home video.