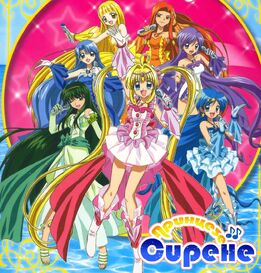 Sirene / Сирене
Cast
Songs
Cast
Yūri, Hippo, Michal Amagi and Michel's speaking voices also sang their songs, all the other songs were preformed by:
Localizations
In Serbia all songs from the first season were released on the soundtrack album "Muzički CD", with names localised in Serbian. In that order:
English name
Serbian name
Literal translation
Legend of Mermaid
Песма о љубави
Pesma o ljubavi
Song About Love
Koi wa Nandarou
Експлозија мелодије
Eksplozija melodije
Explosion of Melody
Ever Blue
Плаво небо
Plavo nebo
Blue Sky
Star Jewel
Киша смарагда
Kiša smaragda
Emerald Rain
Super Love Songs!
Звездана светлост
Zvezdana svetlost
Starlight
Splash Dream
Мој сан
Moj san
My Dream
Yume no Sono Saki He
Сунчана јутра
Sunčana jutra
Sunny Mornings
Voice in the Dark
(Kuro no Kyōsōkyoku)
Мрачно искушење
Mračno iskušenje
Dark Temptation
Aurora no Kaze ni Notte
Нова љубав
Nova ljubav
New Love
Kizuna
Заједнички сан
Zajednički san
Common Dream
Return to the Sea (Part 1)
Дубоко море
Duboko more
Deep Sea
Kodou ~Perfect Harmony~
Моћ сирена
Moć sirena
Mermaid Power
Return to the Sea (Part 2)
Усамљено сиренино срце
Usamljeno sirenino srce
Lonely Mermaid's Heart
Sekai De Ichiban Hayaku Asa Ga Kuru Basho
Први пољубац
Prvi poljubac
First Kiss
Production
Anecdotes
This anime was enormous hit in Serbia, Montenegro and Bosnia & Herzegovina, where the Serbian dub aired. There was a lot of merchandise released.
Opening theme of this dub is "Koi wa Nandarou" with S1 background video for all the seasons. "Taiyō no Rakuen" was dubbed when it appeared in later episodes.
Ending of S1 wasn't dubbed but "Daiji Na Takarabako" was dubbed when it appeared in later episodes. In S2 dubbers kept S1 background video but used dubbed version of "Splash Dream" as audio.
Two parts of the song "Return to the Sea" are considered different songs.
Only first 3 episodes were released on DVD.
Season 1 songs were released on a soundtrack album.