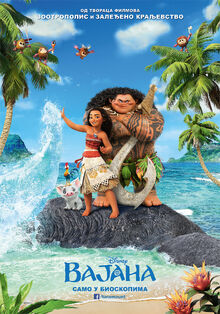 Vajana / Вајана
Premiered: November 19, 2016
Released: November 24, 2016
Cast
Additional voices:
Lejla Hot / Лејла Хот
Irina Milovanović / Ирина Миловановић
Ana Mašulović / Ана Машуловић
Milan Živadinović / Милан Живадиновић
Nika Rambosek / Ника Рамбосек
Stribor Čolić / Стрибор Чолић
Ljuban Matić / Љубан Матић
Vasilije Bjelica / Василије Бјелица
Nika Milojević / Ника Милојевић
Tanja Vasiljević / Тања Васиљевић
Goran German / Горан Герман
Nikola Antonijević / Никола Антонијевић
Miloš Mijailović / Милош Мијаиловић
Katarina Radović / Катарина Радовић
Milan Subotić / Милан Суботић
Nataša Tomić / Наташа Томић
Radule Čović / Радуле Човић
Songs
Cast
Localizations
English name
Serbian name
Literal translation
Where you are
Где си ти
Gde si ti
Where you are
How far I'll go (+ repriza)
Пучине зов (+ реприза)
Pučine zov (+ repriza)
Call of the high seas
We know the way (+ finale)
Ми знамо пут (+ финале)
Mi znamo put (+ finale)
We know the way
You're welcome
Нема на чему
Nema na čemu
You're welcome
Shiny
Сјајни
Sjajni
Shiny
I am Moana
(Song of the ancestors)
Ја сам Вајана (Песма предака)
Ja sam Vajana (Pesma predaka)
I am Vaiana
(Song of the ancestors)
Know who you are
Ко си ти
Ko si ti
Who you are
Production
Dub director: Tea Puharić / Теа Пухарић
Translator: Bojana Lukić Jovković / Бојана Лукић Јовковић
Music director: Srđan Čolić / Срђан Чолић
Lyrics translator: Biljana Brun / Биљана Брун
Creative supervisor: Magdalena Dziemidowicz
Dubbing company: Livada produkcija
Recording studio: Livada Beograd
Mixing studio: Shepperton international
Made by: Disney character voices international, inc.
Anecdotes
Famous Serbian actor Sergej Trifunović / Сергеј Трифуновић was the first choice to dub Maui, but due to his obligations he recorded just the trailer and Marko Kon / Марко Кон replaced him in the movie.
Premiere was held in "Cineplexx" cinema, shopping center "Delta City", Belgrade.
It wasn't released on home video.
Gallery