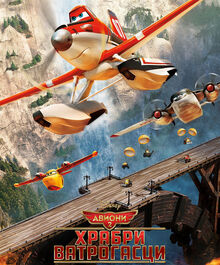 Avioni 2: Hrabri vatrogasci / Авиони 2: Храбри ватрогасци
Cast
Additional voices:
Production
Dub director: Miloš Paunović / Милош Пауновић
Translator: Jelena Čkonjević / Јелена Чкоњевић
Creative supervisor: Aleksandra Sadowska
Dubbing company: Livada produkcija
Recording studio: Watchout
Mixing studio: Shepperton international
Made by: Disney characters voices international, inc.
Anecdotes
It wasn't released on home video.
Ad blocker interference detected!
Wikia is a free-to-use site that makes money from advertising. We have a modified experience for viewers using ad blockers

Wikia is not accessible if you've made further modifications. Remove the custom ad blocker rule(s) and the page will load as expected.