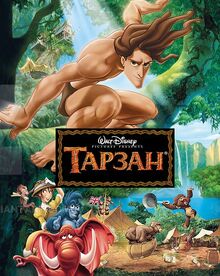 Tarzan / Тарзан
Premiered: April 27, 2008
Cast
Songs
Only Kala's lullaby was dubbed, soloist songs were left in English.
Serbian name
English name
Singing voice
Kala
Кала
Kala
Valentina Pavličić
Валентина Павличић
Production
Anecdotes
Ad blocker interference detected!
Wikia is a free-to-use site that makes money from advertising. We have a modified experience for viewers using ad blockers

Wikia is not accessible if you've made further modifications. Remove the custom ad blocker rule(s) and the page will load as expected.