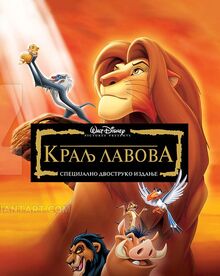 Kralj lavova / Краљ лавова
Premiered: January 1, 2012
Cast
Songs
Cast
Choir:
Localizations
English name
Serbian name
Literal translation
Circle of life
Животни круг
Životni krug
The Life Circle
I Just Can't Wait To Be King
Једва чекам да постанем краљ
Jedva čekam da postanem kralj
I Can't Wait To Become King
Be Prepared
На мој знак
Na moj znak
At My Sign
Hakuna Matata
Хакуна Матата
Hakuna Matata
Hakuna Matata
The Lion Sleeps Tonight
Ноћас спава лав
Noćas spava lav
The Lion Sleeps Tonight
Can You Feel the Love Tonight
Љубав је у ваздуху
Ljubav je u vazduhu
Love Is In the Air
Production
Dub director: Dragan Vujić Vujke / Драган Вујић Вујке
Director's assistant: Milan Antonić / Милан Антонић
Translator: Predrag Kovačević / Предраг Ковачевић
Music director: Srđan Čolić / Срђан Чолић
Lyrics translation:

Predrag Kovačević / Предраг Ковачевић
Danijela Rakić / Данијела Ракић

Sound mixing:

Mile Novković / Миле Новковић
Goran Kuretić / Горан Куретић

Creative supervisor: Magdalena Dziemidowicz
Dubbing company: Livada produkcija
Recording studio: Moby
Mixing studio: Shepperton international
Made by: Disney characters voices international, inc.
Anecdotes
It aired only on TV channel RTS 1, even though it's an official dub.
It wasn't released on home video.
Poster gallery
Ad blocker interference detected!
Wikia is a free-to-use site that makes money from advertising. We have a modified experience for viewers using ad blockers

Wikia is not accessible if you've made further modifications. Remove the custom ad blocker rule(s) and the page will load as expected.