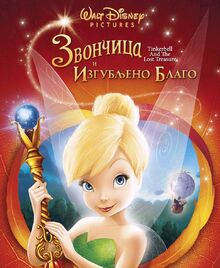 Zvončica i izgubljeno blago / Звончица и изгубљено благо
Cast
Songs
Lyria is the only character singing in Serbian in this movie. Soloist songs and the choir in the theater weren't dubbed.
Serbian name
English name
Singing voice
Lirija
Лирија
Lyria
Mariana Aranđelović
Мариана Аранђеловић
Production
Anecdotes
It aired only on TV channel RTS 1.
It wasn't released on home video.