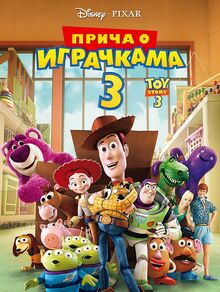 Priča o igračkama 3 / Прича о играчкама 3
Premiered: June 13, 2010
Released: June 17, 2010
Cast
Additional voices:
Songs
Serbian name
English name
Voice
Za tebe tu sam ja
За тебе ту сам ја
You've got a friend in me
Dejan Cukić
Дејан Цукић
Day & Night (theatrical short)
Production
Dub director: Predrag Đorđević / Предраг Ђорђевић
Music director: Željko Markuš / Жељко Маркуш
Translator: Ivan Stojiljković / Иван Стојиљковић
Creative supervisor: Eyman Maciej
Dubbing company: Luxor
Recording studio: Loudworks
Mixing studio: Shepperton international
Made by: Disney character voices international, inc.
Anecdotes
Premiere was held in "Sava centar", Belgrade.
It was released on Blu-ray.
Ad blocker interference detected!
Wikia is a free-to-use site that makes money from advertising. We have a modified experience for viewers using ad blockers

Wikia is not accessible if you've made further modifications. Remove the custom ad blocker rule(s) and the page will load as expected.