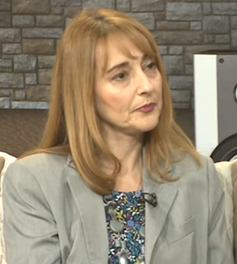 Valentina Pavličić / Валентина Павличић is Serbian theater, TV and voice actress. Her maiden name is Čerškov / Чершков.
She has founded children theater "Čarapa", where she works as an actress and director, and has also played in various TV shows. She is active voice actress.
Dubbing studios
Voice roles
Disney
Non-Disney
Dubbing year
Movie/series
Character(s)
1998
The Adventures of Blinky Bill (RTS)
Marcia, etc.
1999
Rudolph the Red-Nosed Reindeer: The Movie
Mrs. Claus, Sparkle, Glitter, Zoey
2001
Digimon Adventure
Mimi Tachikawa, Biyomon, Tailmon, Birdramon,
Garudamon, Angewomon, Plotmon, Pyocomon, LadyDevimon
2001
Dragon Ball
Chi-Chi, Launch, Fortuneteller Baba, Puar
2003
Dragon Ball Z (E1-52)
Chi-Chi, Launch, Fortuneteller Baba, Puar
2004
La veritable histoire du petit chaperon rouge (2002)
Grandmother
2007
Bratz Babyz: The Movie
Miss Calabash
2007
Šumska škola
2008
Mopatop's Shop
Puppyduck
2008-2009
Peppa Pig (S1-2)
Madame Gazelle
2008
The Magic School Bus (Studio)
Ms. Frizzle, Phoebe Terese, Keesha Franklin
2008
Tractor Tom
Fi, Rora
2010
The Pinky and Perky Show
Tara, Vera, Tamara
2011
Charlotte's Web 2: Wilbur's Great Adventure
Joy, Bessie, Mrs. Hirsch
2011-2015
Fireman Sam
Penny Morris, Helen Flood
2014
The Thundermans
Barb Thunderman (some episodes)
2014-2016
Tree Fu Tom (Studio)
Treetog the Tree Spirit
2015
Bella and the Bulldogs
Ms. Fernandez, Doris McKenna
2015
Fireman Sam: The Great Fire of Pontypandy
Penny Morris, Helen Flood
2015
Peppa Pig (Blue House)
Granny Pig
2016
100 Things to Do Before High School
Miss Claymore, Jill Jillerton
2016
ALVINNN!!! and The Chipmunks
additional voices
2016
Every Witch Way
Principal Torres
2016
Game Shakers
Diana DeVane
2016
Harvey Beaks
Miley
2016
Lost in the West
Mrs. Caldwell
2016
Max & Ruby
Mrs. Bunny
2016
My Life as a Zucchini
Teacher
2016
PAW Patrol
Yumi (only some episodes)
2016
Rufus
Mom
2016
Shimmer and Shine
Mila
2016
The Day Henry Met
Mother
2016-2017
The Loud House
Agnes Johnson, Corinne
2016
Yu-Gi-Oh! Zexal
Cathy Katherine
2017
Bunsen Is a Beast
Miss Flap (only some episodes)
2017
Regal Academy
Clara Cinderella
2017
The Fairly OddParents
Connie Carmichael (S10E37)
2017
Twirlywoos
Narrator
2017
WITS Academy
Amelia Foiler
Links
Ad blocker interference detected!
Wikia is a free-to-use site that makes money from advertising. We have a modified experience for viewers using ad blockers

Wikia is not accessible if you've made further modifications. Remove the custom ad blocker rule(s) and the page will load as expected.